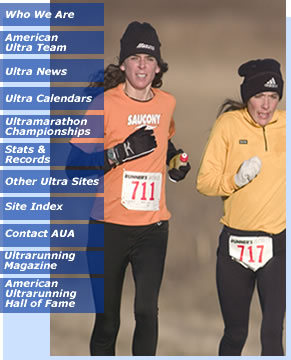 American Ultrarunning Hall of Fame
*Ted Corbitt (2004)
*Sandra Kiddy (2004)
*Marcy Schwam (2005)
*Sue Ellen Trapp (2006)
*Bernd Heinrich (2007)
*Stu Mittleman (2008)
December, 2009
Allan Kirik
Allan Kirik of New York City is probably the least well known (and least well appreciated) world-class Ultramarathon runner the USA has ever produced. A classic "mystery man," he lingers incognito in the annals of American ultrarunning. His ultra career was barely a blip on the global radar screen. It lasted 3 only years. He ran only a handful of ultramarathons in his life. In a sport in which "camaraderie" and "sharing the road/trail" are considered essential ingredients, he ran almost all of his ultra training and racing miles utterly alone. And his legacy of world-class credentials was marred by minor technical glitches in three of his finest races.
The first of these is what appears to have been his first ultra, the 1977 AAU National 50k Championship in New York City, in which he ran 3:02:56 but lost to Fritz Mueller. Only in recent years has the record been corrected to reflect the fact that Mueller was not an American citizen, and so Allan Kirik was actually one of the first official U.S. National Ultra Champions. In a sense, the rest of his ultra career was just more of exactly the same: simply put, he ran 6-minute per mile pace for three years and then hung up his shoes. A friend once commented on Kirik's staple weekend long training run: he would just go out and run 6-minute pace for as long as he could. This was usually in the 25-35 mile range. In his races, which ranged from 60k to 100k, he would do exactly the same thing. And he usually kept doing it right up to the Finish Line.
In 1978 he won the Metropolitan 50 Mile in New York's Central Park in 5:15:54, probably his worst ultra performance ever, despite being the 4th fastest American 50 mile time ever. The following year, in the spring he traveled to the nation's premier road ultra, Lake Waramaug in Connecticut. Running all alone, he set a world road best of 5:00:30 for 50 miles. That fall, he traveled to England for what was then the de facto World Championship of ultrarunning, the 54.26 mile London-to-Brighton race. There he proceeded to do what the great Ted Corbitt was never able to achieve. He became the first and only American man ever to win this classic event, running 5:32:37.
The following year, 1980, he returned to defend his title at the Brighton, only to find Englishman Ian Thompson on the starting line. In the mid-70's Thompson had been the world's premier marathoner, with a marathon best under 2:10. Kirik's best marathon was 15 minutes slower. So what did the American do? He tried to burn off the fleet Brit early and run away with the race. He hit the 50km mark in under 3 hours, but soon Thompson caught him and went on to win. Kirik hung on for second, despite having run 10 minutes faster than the previous year. If 50 mile split times had been taken, his would have been under 5 hours, with more than 4 miles still to go. Just a few weeks later, fellow American Barney Klecker broke Kirik's world 50-mile best on a flat course at Chicago, so only a month after his London-to-Brighton race Kirik tried to get it back on the hilly Copper Harbor 50 Mile course in Michigan. He missed by 5 minutes, running 4:56:03 in freezing, windy condtions that included a hailstorm. The course was later remeasured and found to be short by almost 2 miles, but the essentially solo performance translates to about a 5:07 for a full 50 miles. And only a month after that, he extended his range at the Metro 100km in Brooklyn's Prospect Park, where he won by an hour and obliterated the American 100km record by over 13 minutes, running 6:37:54.... Or so it seemed. A year later when Bernd Heinrich (AUA Hall of Fame, 2007) set the American 100km record which would stand for 15 years, he ran a minute slower. Kirik's 6:37:54 on a certified course missed record ratification because an early out-&-back section on the course was run slightly short. The Race Director caught the error and scrambled to make up the difference by measuring and having the field run another out-&-back section at the end of the race. But such patchwork courses are ineligible for records. There is little doubt that Kirik ran the full 100km distance, he just could not be credited with the record. Soon after that he encountered injury problems and ended his ultra career. A mere flash in the pan. But what a brilliant one!
******************************************************************************************
(For years 2004 - 2008, scroll down to read chronologically)
------------------------------------------------------------------------------------------------
December, 2004
AMERICAN ULTRARUNNING ASSOCIATION ANNOUNCES AMERICAN ULTRARUNNING HALL OF FAME
Corbitt and Kiddy Inaugural Inductees
The American Ultrarunning Association (AUA) is pleased to announce the formation of The American Ultrarunning Hall of Fame. AUA president Kevin Setnes made the announcement April 20th, noting "A national ultrarunning Hall of Fame is long overdue. The legends of our sport will now have a place to be honored for posterity."
Athough ultrarunning as a competitive sport has a rich and colorful history in America (going back into the mid-19th century and pre-dating organized Track & Field), its practice was scattered and not uniformly coordinated throughout the country until the late 1950's. Hence, the pool of Hall of Fame candidates will be restricted to what is know as the "modern era" of the sport, which we date from the first know American ultramarathon organized since World War II, the New York Road Runners Club 30 Mile race held on March 8, 1958.
The AUA Hall of Fame will reflect excellence at racing beyond the standard marathon distance, or other exceptional contributions to American ultrarunning. The inaugural class of inductees will include one man and one woman. Thereafter, only a single inductee per year will be selected. Athlete candidates for the Ultra Hall must be either retired from serious competition for at least 10 years prior to their induction, or have reached the age of 60.
Achieving the distinction of being the first man and woman inducted into American Ultrarunning's Hall of Fame are Ted Corbitt and Sandra Kiddy.
--------------------------------------------------------------------------------------
TED CORBITT
Generally regarded as "the father of American Ultrarunning," Ted Corbitt was born in 1920. He was a sub-49 second quarter-miler at the University of Cincinnati, and began training for marathons in 1950. He had almost instant success. He won both the U.S. and Canadian national championship marathons, and was selected to the 1952 U.S. Olympic marathon team. He missed the 1956 Olympic team by one place.
At the same time, he became involved in the organization and administration of long distance running on a national scale. He was a co-founder of the Road Runners Club of America and the New York Road Runners Club, and was elected the latter organization's first president in 1958. An African-American, as both athlete and administrator he faced and conquered many challenges posed by racial discrimination in the pre-civil rights era.
In 1958 Corbitt won the inaugural modern era American ultra, the NYRRC 30-miler, in 3:04:13. The sport grew quickly, and over the next two years he won 10 ultramarathons.
In 1960 he was elected president of the Road Runners Club of America (RRCA). Corbitt's lobbying efforts for accurate road course measurement led to the formation of the AAU's National Standards Committee, the precursor of the Road Running Technical Council. He was personally, "hands-on" responsible for the introduction of road course certification in America.
At that time the generally recognized de facto "World Championship" of ultrarunning was the 54-mile London-to-Brighton road race in England. In 1962 Corbitt made his first of four trips to the event. After leading for the first half of the race, he finished fourth in a performance that international ultra historian Andy Milroy claims "signaled the rebirth of North American ultrarunning."
During the 60's Corbitt, a full-time physical therapist with a wife and small child, became legendary for his prodigious training mileage, including long individual training runs over 60 miles and training weeks of 300 miles or more. In 1969 British track star Bruce Tulloh made international headlines by running across the United States averaging 44 miles per day with a 2-vehicle, 4-person support crew. One astute New York journalist later commented that at the very same time, Ted Corbitt came close to averaging that in training for an entire summer while maintaining a family and a full-time job!
Corbitt would finish second twice more at Brighton. One of them, his nip-and-tuck, one-minute loss to world-ranked #1 ultrarunner Bernard Gomersall, is regarded as one of the epic, classic duels in the history of the sport.
The successful promotion of a national ultrarunning program by the RRCA, following Corbitt's leadership, resulted in the establishment in 1966 of the inaugural U.S. National 50 Mile Championship in Staten Island, New York. Corbitt finished second to Jim McDonagh in that race, but came back to win the National 50 Mile in 1968 in 5:39:45.
Corbitt finished out his world-class career with a series of track races in London, all of them when he was over the age of 50. In these races he set long-standing American track records for 50 miles, 100 miles, and 24 hours.
Although a series of injuries forced him to give up running and switch to walking in his 60's, he never gave up being an active participant in the sport. In recent years, in his 80's, he has covered over 68 miles in a 24-hour race and over 300 miles in a 6-day race.
---------------------------------------------------------------------------------
SANDRA KIDDY
Sandra Kiddy was born in 1936. She ran her first ultramarathon in 1979 at the age of 42, opening her career with a bang by notching a world best 3:36:56 for 50km. And she never looked back.
Unbeknownst to her or two of her particular countrywomen at the time, she, Marcy Schwam, and Sue Ellen Trapp formed an American trio who would lead women's ultrarunning into global prominence for the first time in history. Among the three of them, they would bring women's performance levels from 50km through 24 hours to staggering new heights, and awaken the rest of the world to the opportunity for women to achieve athletic recognition in ultramarathons on a par with men. Among them, Kiddy was the most senior in age and the most consistent.
In 1981 Kiddy ran her first 50 miler, in 6:24:19, putting her at #4 on the all-time world list with a performance that would still rank at the top of the American women's performance charts today. In subsequent years she would drop her 50 mile best to 6:15:47, then 6:09:09, the latter at age 47, behind only Schwam on the all-time U.S. list.
In 1982 Kiddy won the Chicago Lakefront 100km, the premier American road ultra, in 7:59:59, becoming only the second woman in history (again, behind Schwam) to break 8 hours, the first on American soil.
The following year she continued her progression upward in distance and in stature, running the first of her many successful European ultras. After a tight battle with German 100km recordholder Monika Kuno, Kiddy pulled away to win a special women's invitational "World Cup 100 Mile" in Waldniel, Germany in 15:40:50. In doing so she finally emerged from Schwam's shadow, beating the younger American's existing absolute world best by over 3 minutes. Later that year she lowered her 50km best to 3:32:34, taking 3rd spot on the all-time U.S. list.
Another year, another landmark: In 1984 Kiddy came within 2 minutes of Schwam's absolute 100km World Best, running 7:49:16 to win the Edmund Fitzgerald 100km outright, catching and passing men's winner Harry Sloan in the last 100 meters. In 1984 she also broadened her European horizons, winning the historic Two Bridges 36 miler in Scotland in course record time.
Her 100 mile World Best had lasted only a few months, and fellow American Donna Hudson now topped the century charts with her 15:31:57. This gave the 48-year old Kiddy impetus for her 1985 shining star, a 15:12:54 new World Best in Florida that would have to wait for Ann Trason, the star of a new generation, to be challenged.
In 1985 and 1986 Kiddy set Europe ablaze, winning London-to-Brighton and the Winschoten and Torhout 100kms, each of the latter two in just over 8 hours. She was right on the cutting edge of the high-profile European 100km phenomenon which would bring media attention, prize money, and national team competition to these events. Continental Europe led the way in this breakthrough, and this American woman in her late 40's was their queen. At the end of 1986, just a week shy of her 50th birthday, she ran 7:56:21 to win the Philadelphia-to-Atlantic City 100km.
During the late 80's Kiddy also made a token foray into the exploding new phenomenon of American trail racing, winning the Ice Age 50 Miler in Wisconsin, one of the largest and most competitive of the trail events.
Of the half-dozen 100km races Kiddy ran in her prime, all of them were major events, she was undefeated, and her average time was under 8 hours.
In 1987 Kiddy was named to the newly-formed Ultrarunning Subcommittee of TAC/USA (which later became USA Track & Field). She was instrumental in setting policies and standards for the selection of USA national championships and teams for the next 10 years.
Once into her 50's, Kiddy became hampered by a persistent hamstring injury and seriously curtailed her racing. But she re-emerged with a 6:34:28 50 miler in 1991, which qualified her for the USA National team to the 1992 World 100km in Palamos, Spain. She became, at age 55, the most senior athlete ever named to an open USA national team, and was leading the American contingent until the last few miles in the World title race. She finished as second American scorer on the 4th placing American women's team, running 8:42:36, a world age-group record.
Sandra Kiddy, now in her late 60's and in retirement, still runs recreationally for an hour a day.

*****************************************************************************
December, 2005

MARCY SCHWAM INDUCTED INTO NATIONAL ULTRARUNNING HALL OF FAME
In 2004 the American Ultrarunning Association created the American Ultrarunning Hall of Fame. Last year's inaugural inductees were Ted Corbitt and Sandy Kiddy. From 2005 on, one new inductee per year will be selected. In order to qualify for selection to the American Ultrarunning Hall of Fame, candidates must either have been retired from competition for 10 years, or have reached the age of 60.
Joining Corbitt and Kiddy is our 2005 inductee, Marcy Schwam. Schwam's ultra career lasted less than a decade, from the late 1970's through the mid 1980's. She was one of the pioneers not only of American, but of global women's ultrarunning. When Marcy Schwam entered her first ultra, barely a handful of women around the world had attempted the sport. Within a few years a trio of Americans (Kiddy, Schwam, and Sue Ellen Trapp) took the lead in bringing the distaff dimension of global ultrarunning from fledgling to legitimate world class. Kiddy and Trapp were in their 30's and exhibited a measured, consistent, elegant approach to the sport. Schwam was a decade younger and, in contrast, displayed a bold, brazen, get-out-of-my-way attitude and racing style. In its year 2000 summary report on Ultrarunners of the 20th Century, Ultramarathon World contrasted Kiddy and Schwam as follows: Kiddy's great competitive performances were like Mozart symphonies, but Schwam was pure Rock & Roll.
Marcy Schwam was originally a tennis player, and competed briefly in the Virginia Slims professional circuit in the 1970's. She became a runner at the height of the mid-70's running boom, moved quickly to marathons, and just as quickly into the brand new realm of ultrarunning. She achieved instant success. After a few short-range ultras to test the waters, she became the first woman to complete the 72-mile race around Lake Tahoe in 1978. The following year, at a time when just finding an ultramarathon was a challenge, she broke the American 100km record in Yakima, Washington by nearly 20 minutes, only to discover afterwards that on the same day, a few hours earlier, Trapp had run 8 minutes faster in a 100km race in Connecticut. Later that year Schwam ran in two 48-hour races, establishing an American and World Record of 113.0 miles for 24 hours en route in the second one.
The next two years saw Trapp and Schwam trade World 100km and 24 hours records back and forth three times (lowering the 100km by almost an hour), while never meeting head-to-head. In the midst of the frenzy, Schwam set a world 100 mile track record of 15:44:27. She also lowered her marathon best to 2:47. In September, 1981, Marcy Schwam finally put Trapp and all other challengers behind her with what Ultrarunning magazine has described as a landmark "performance for the ages," finishing 3rd among men in one of the world's premier ultras, the Santander 100km in Spain. Her 7:47:28 obliterated Trapp's 8:05:26 world record and put her in a class by herself. The following year she became the first woman in history to run under 6 hours for 50 miles, winning the AMJA 50 Miler in Chicago in 5:59:26. Also in 1981 she became the first woman in the modern era to complete a 6-day race, setting a world record 384.00 miles while finishing second to Park Barner in the Weston 6-Day Race in Pennsauken, New Jersey. Schwam's last serious ultra effort was an American Record 187.79 miles for 48 Hours on an indoor track in Haverford, PA in January, 1985.
*******************************************************************
December, 2006
SUE ELLEN TRAPP INDUCTED INTO AMERICAN ULTRA HALL OF FAME

Sue Ellen Trapp of Fort Myers, Florida is the 2006 inductee into the American Ultrarunning Association's Hall of Fame. Trapp joins 2004 inaugural inductees Ted Corbitt and Sandra Kiddy, and 2005 addition Marcy Schwam in the pantheon of American ultrarunning legends so honored. Only one inductee per year is admitted, and an athlete must have reached the age of 60 or been retired for 10 years to qualify. Trapp, whose ultra career began in 1979, turned 60 this year. She is still competing.

In 1979 Trapp, a wife, mother, and full-time dentist until her recent professional retirement, began her ultra career by breaking the American women's 100km record by an hour and a half, only to finish behind Lydi Pallares, who broke it 2 minutes in front of her. So, three months later she lowered Pallares' short-lived mark by nearly a half hour, garnering her first of many national records with an 8:43:14 at Lake Waramaug in Connecticut. It's good she ran that fast because on the same day, on the other side of the country, Schwam ran 8:51:09, believing the record was hers until she arrived back home on the east coast.

Trapp would continue to spend the next two years trading American and World records at 50 miles, 100km, and 24 hours with fellow American Schwam. By 1981 Trapp owned the World 100km mark of 8:05:16 and the World 24 hour standard of 123 miles, 593 yards. She then went into an 8-year semi-retirement, concentrating on racing distances from 5km through the marathon. That was a pivotal year in the sport, as Schwam's performances and influence began to diminish as soon as Trapp took to the sidelines. Yet at exactly this time Sandra Kiddy came into her own, picking up right where her predecessor duo had left off and continuing to have an American at the vanguard of women's global ultrarunning.

In the half-decade span from 1979 to 1984, this historic trio of American women had brought the feminine dimension of the sport from the Dark Ages to the Enlightenment. Ironically, they never met in head-to-head competition while at their best (Trapp and Kiddy raced each other for the first time as fellow U.S. team members at the 1991 World 100km in Spain, when they were both well past their prime at that distance). This fact was most likely not by design or intent, but just a serendipitous outcome of the low-key and decentralized nature of the emerging national and global organization of the sport at the time. In the history of ultrarunning right up to the present, among American men only Corbitt can claim to have even approached the same level of global impact on the sport on the male side as these three legendary women had on the female side. Thus the apparent imbalance of three women and only one man in the American Ultrarunning Hall of Fame only two years after its inception is actually quite appropriate.

After an 8-year hiatus, Trapp returned to ultras spectacularly in 1989. Now in her mid-40's, she added 14+ miles to her best 24 hour distance to finish runnerup to Ann Trason in the U.S. 24 Hour championship in Queens, New York, as both women shattered the American record. For the next decade Trapp owned American distaff 24 hour racing like few top-tier athletes have possessed their signature event. During that span she won an unprecedented seven national 24-hour run titles (most of the time finishing among the top 5 men in the race) and took two silvers. She also returned to the 100km event, qualifying for the U.S. National 100km team three times, highlighted by a clutch performance of 8:17 as third scorer on the U.S. team in the 1993 World 100km which put the American women on the team medals podium for the first time ever. During her decade of 24 hour run dominance in the 90's, Trapp took ownership of both the track and road versions of the American Women's 24-hour open record. The highlight was her 1993 recapturing (with 145 miles, 503 yards) of the national road and absolute 24-hour mark from Trason, who is universally regarded as the greatest American ultrarunner, male or female, in history. In the past two decades, no other American woman has been able to come close to a Trason-held absolute American Record. Approaching the end of the decade, Trapp extended her expertise into the multi-day realm, putting the women's national 48-hour road and track marks out of reach of all other American women, and capping her career with an absolute World Record 234 miles, 1425 yards to win the Surgeres 48-hour in France in 1997. She had set world records 17 years apart, an accomplishment which makes her unique in all of Athletics. Her 48 hour mark stood for almost a decade and resisted targeted attempts by virtually all the world's top female 24 hour runners until Japan's Sumie Inagaki finally broke it earlier this year by less than 3 miles.

In recent years Sue Ellen Trapp has been hampered by a torn knee ligament brought on by a non-running freak accident. She has been gradually returning to ultra competition, and she recently participated in the Ultracentric National 24-Hour Run Championship in November, 2006.
*******************************************************************
December, 2007
BENRD HEINRICH INDUCTED INTO AMERICAN ULTRARUNNING HALL OF FAME
Bernd Heinrich becomes the second man, following the recently deceased Ted Corbitt, and the female trio of Sandy Kiddy, Marcy Schwam, and Sue Ellen Trapp, to be selected to the American Ultrarunning Association's Hall of Fame. Heinrich has perhaps the most fascinating and colorful history of all of the members of the Hall. He didn't start out as an American. He was born in 1940 in Poland. At age 10 his family migrated to the U.S., and he eventually became a citizen.
Bernd Heinrich has achieved global notoriety for his professional career as a Physiological Ecologist and Entomologist. Recently retired as a professor of Zoology at the University of Vermont, he is generally considered the world's leading authority on topics as diverse as the physiology of bumblebees and the sociology of ravens.
Heinrich holds a Ph.D. in Zoology, has been both a Guggenheim Fellow and a Harvard Fellow, and has been awarded two honorary doctorates. He has published over 100 scholarly papers, over 50 professional book reviews, over 35 book chapters, over 70 articles for magazines and newspapers as diverse as Outside, Runners World, and the New York Times, and has authored over 15 books on various aspects of the natural world. Some of his popular writings in recent years have explored the physiological propensity of humans toward long distance running.
But none of that is why he is only the second American man, behind the legendary Ted Corbitt, to enter the Ultrarunning Hall of Fame. His world-class ultra career was short, but it left a sweeping impact on the sport. Heinrich didn't get serious about competitive running until his late 30's. After winning the masters division
of the Boston Marathon in 1980 just after turning 40, he decided to move up in distance and immediately achieved success, setting an American Masters record 3:03:56 for 50k in his first ultra. The following year, in only his second ultra, he ran what many observers consider the race of his life, becoming an instant national legend. The preeminent road ultra in the country was the AMJA combined 50 Mile/100k in Chicago. Barney Klecker, who had set the World 50 Mile record of 4:51:25 the previous year, was back and all eyes were on him. He won again, in 5:05:04, but now the gaze of all eyes switched to the unknown who was hot on his tail, 41-year old Bernd Heinrich. Heinrich broke the World Masters Record with a second-place 5:10:12, and then shocked everyone by deciding at the last minute to continue on for the full 100k distance. His final time of 6:38:20 established both a new World Masters Record and a new absolute Open American Record. The latter would stand for 14 years.
Two years later, running uncontested in a small 24-hour track race in 90-degree daytime heat, Bernd Heinrich set a new American Record of 156 miles, 1388 yards. This one would hold up for 7 years. For the next two years he continued his racing policy of one serious ultra per year. Next after the 24-hour came the track 100 mile, where he ran 12:27:01 for a new absolute American Record by almost a half hour. Though subsequently surpassed by Rae Clark on the roads, it still stands today, over 23 years later, as the American Track Record. The last of his national marks came the following year, as he ran 7:00:12 for 100k on the track to become and first and only man to hold both the track and road versions of the same ultra distance record. That one currently remains intact as well.
After less than a half-decade, Bernd Heinrich ended his competitive ultra career, focusing more on his professional one. He returned to ultras many years later, at the age of 61, to set a U.S. Masters 60-64 age-group Record of 6:39:55 for 50 miles.
Note on AUA Hall of Fame Policy: to be considered for the American Ultrarunning Hall of Fame, candidates must be either retired from serious competition for 10 years, or have reached the age of 60.
*******************************************************************
December, 2008
STU MITTLEMAN INDUCTED INTO AMERICAN ULTRARUNNING HALL OF FAME
Stu Mittleman began his ultra career inauspiciously in 1978, running a modest 6:11 for 50 miles in the Metropolitan 50 Mile in Central Park, New York City. Within two years he had notched his first national-class ultra performance, running 3:52 for 60k. A few months later he stunned a stellar field by winning the New York Road Runners Club's 100 mile with the second fastest time ever by an American, 13:04:09.
In 1981 he won the Lake Waramaug 50 Mile in 5:14:05, becoming #5 on the all-time U.S. list. Then, only a month later, he returned to successfully defend his title at the NYRR 100 mile (now designated as the U.S. National Championship), lowering his time to 13:00:11 in oppressively hot and humid conditions. In 1982 he again successfully defended at both venues, this time taking the longer distance option at Lake Waramaug, winning the 100k there in 6:57:49 (again, the #5 all-time U.S. performance at that distance) and dropping his winning National 100 Mile time by another 4 minutes with a 12:56:34. The story of that race has been written and revisited more than almost any other American ultra. It was a classic 2-man duel in a driving rainstorm, with 1/4 of the 1-mile course a gooey, muddy bog, that never let up until Mittleman broke the finish tape. He had started at what observers considered a reckless pace, clocking 5:45 for the first 50 miles. Through the second half Lion Caldwell closed steadily on the now-fading leader. Every lap of Mittleman's second 50 miles was slower than the preceding one, but he clung tenaciously to the lead. For the final hour his arms and head drooped, and it seemed there was no way he could finish, that Caldwell would win his first national title. Mittleman somehow remained upright long enough to cross the finish line, but would never again return to that race, that distance, or anything shorter.
The revival of multi-day racing in the early 1980's breathed a second competitive life into Stu Mittleman. He entered the inaugural New York 6-Day race in 1983 and finished second to multi-day legend Siefried Bauer of New Zealand, racking up 488 miles to Bauer's 511 and becoming the top American at this newly revived event. The following year he exploded onto the world-class multi-day scene, finishing second to 24-Hour World Record hold Jean-Gilles Boussiquet of France in the LaRochelle 6-Day Race in Boussiquet's home country. Mittleman had immersed himself in the esoterica of multi-day racing, including nutritional research, racewalking technique, and sleep-deprivation. It all paid off with daily mileage totals of 105, 90, 95, 86, 103, & 92 for a 6-day total of 571 miles, 1164 yards. It was a U.S. 6-day best by over 16 miles. The following year he covered 577 miles, 1320 yards in a 6-day race in Boulder, Colorado. For that, Mittleman won the "performance of the year" designation by Ultrarunning Magazine for the second time (the first had been for his 12:56 100 Mile win).
But his crowning achievement was yet to come the following year: a head-to-head match with Bauer at the Sri Chinmoy 1,000 Mile Race in Queens, New York to attack Bauer's World Record of 12 days, 12 hours. Bauer took control of the race early and established a substantial lead by halfway. And then Mittleman's training and meticulous race planning kicked in. He actually surged in both pace and time in motion more than halfway through the race. He wound up putting together back-to-back 6-day splits of 500+ miles each, the second faster than the first. It was a virtually flawless footracing fortnight tour de force. He decisively defeated Bauer and crushed the Kiwi's world record by 16 hours, setting a new world mark of 11 days, 20 hours, 36 minutes, 50 seconds. It would take none other than Yiannis Kouros to break it many years later.
Stu Mittleman appeared to have retired shortly after that race, but after an 8-year absence from serious racing he re-emerged in 1994 to win the LaRochelle 6-day with 536.26 miles. In year 2000 he completed a charity fundraising run across the USA, averaging 52 miles per day.
No other American ultrarunner, male for female, has exhibited national class excellence at such a wide range of racing distances. None other than Ted Corbitt, inaugural Ultra Hall of Fame inductee and "The Father of American Ultrarunning," once offered the opinion that Mittleman was the best-ever all-around American ultrarunner.
Mittleman joins Sandra Kiddy, Marcy Schwam, Sue Ellen Trapp, Ted Corbitt, and Bernd Heinrich as the third man to be inducted into the American Ultrarunning Hall of Fame.
Note on AUA Hall of Fame Policy: to be considered for the American Ultrarunning Hall of Fame, candidates must be either retired from serious competition for 10 years, or have reached the age of 60.